Top Benefits Of Concrete Driveways
Concrete driveways offer a range of benefits that make them a popular choice for homeowners. In this article, we will discuss some of the benefits of concrete driveways.
If you want to learn more about the right concrete for your driveway check out our concrete services to see what we can do for you.
1. Durability
Concrete is a very durable material that can withhold heavy traffic and harsh weather conditions. A well-constructed concrete driveway can last for decades with minimal
maintenance.
2. Low maintenance
Unlike other driveway materials, such as asphalt or gravel, concrete driveways require very little maintenance. They can be easily cleaned with a pressure washer and occasional sealing.
3. Aesthetic appeal
Concrete driveways come in a range of colors, textures, and finishes, allowing homeowners to customize the look of their driveway to complement their home's style and design.
4. Increased property value
A well-designed and constructed concrete driveway can increase the curb appeal of a home, which can translate to a higher resale value.
5. Cost-effective
Concrete driveways are cost-effective when compared to other materials, such as pavers or natural stone.
6. Eco-friendly
Concrete is a sustainable material that can be recycled and reused, making it an environmentally friendly option.
Wichita Falls, TX, Volumetric Concrete Delivery
Whether you've never ordered concrete before, or you're an old pro, Diamond M Concrete strives to meet and exceed your expectations. Our team works with each customer to learn about the project to provide high-quality volumetric concrete. Call us today to start!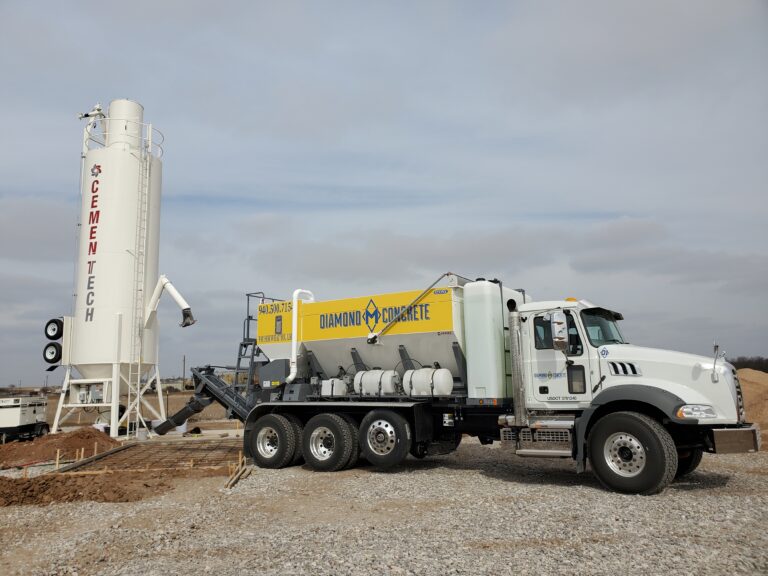 YOUR WICHITA FALLS, TEXAS
CONCRETE SUPPLIER
When your next project calls for high-quality volumetric concrete,
make Diamond M Concrete your first call in Wichita Falls, TX, and surrounding areas.