Can You Pour Concrete In The Rain?
In general, it is best to avoid pouring concrete in the rain. Water can interfere with the chemical
reaction that makes concrete harden and cure properly. If concrete is poured in the rain, it can
result in weak and porous concrete, which may not be structurally sound.
If it is absolutely necessary, take the required precautions to protect the concrete and ensure
that it cures properly.
1. Protect the concrete
Use tarps or other waterproof covers to protect the freshly poured concrete from the rain. Make sure that the covering is secure and does not come into contact with the concrete
surface.
2. Add a water reducer
A water reducer can help minimize the amount of water needed for the concrete mix, reducing the impact of rainwater on the curing process.
3. Use accelerators
Concrete accelerators can help speed up the curing process, allowing the concrete to harden and cure properly even in wet conditions.
4. Monitor the weather
Keep an eye on the forecast and plan the concrete pour for a day with less likelihood of rain. If possible, schedule the pour for a day when there is no rain in the forecast for the next 24 hours.
Wichita Falls, TX, Volumetric Concrete Delivery

Whether you've never ordered concrete before, or you're an old pro, Diamond M Concrete strives to meet and exceed your expectations. Our team works with each customer to learn about the project to provide high-quality volumetric concrete. Call us today to start!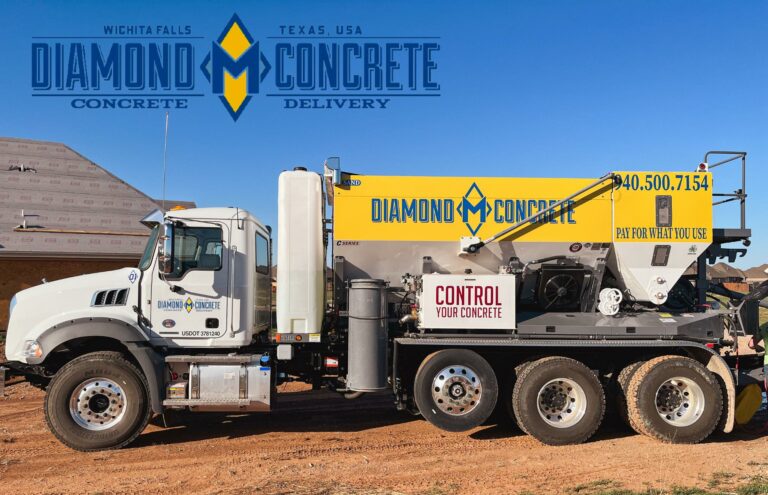 YOUR WICHITA FALLS, TEXAS
CONCRETE SUPPLIER
When your next project calls for high-quality volumetric concrete,
make Diamond M Concrete your first call in Wichita Falls, TX, and surrounding areas.