Tips For Maintaining Your Concrete Surfaces This Spring
Spring is an excellent time to perform maintenance on your concrete surfaces. In this article we
will discuss the steps you can take to keep your concrete in good condition.
1. Inspect your concrete surfaces:
Look for any signs of damage, such as crack or discoloration. Check for any areas that need repair.
2. Clean your concrete:
The winter months can be brutal to your concrete surfaces. Sweep away any debris, then use a pressure washer or a hose with a high-pressure nozzle to remove dirt, grime, and stains. It is a good idea to use a concrete safe cleaner specifically designed for concrete surfaces to get extra grime off.
3. Seal your concrete:
Applying a sealer to your concrete surface can help prevent water damage, staining, and fading from UV rays. Choose a sealer that is appropriate for your particular concrete surface, such as penetrating sealer or a topical sealer.
4. Fill in any cracks:
If you find any cracks in your concrete, fill them in with a concrete patching compound. Follow the instructions carefully, and allow the patch to dry completely before sealing or painting. If you're nervous about doing this yourself, consult a concrete professional.
By following these steps, you can help ensure that your concrete surfaces stay in good condition and continue to look great for years to come.
Wichita Falls, TX, Volumetric Concrete Delivery
Whether you've never ordered concrete before, or you're an old pro, Diamond M Concrete strives to meet and exceed your expectations. Our team works with each customer to learn about the project to provide high-quality volumetric concrete. Call us today to start!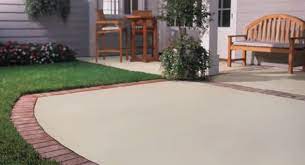 YOUR WICHITA FALLS, TEXAS
CONCRETE SUPPLIER
When your next project calls for high-quality volumetric concrete,
make Diamond M Concrete your first call in Wichita Falls, TX, and surrounding areas.